Picture(s):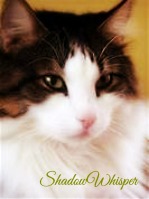 Age: 25 moons
Gender: Female
Fur color: She has a brown, red, and white coat. On her head, face, back, and tail her she has brown, red, and black fur. The rest of her coat is pure white.
Markings: Tabby pattern with dapple on her back
Eye Color: Olive green
Fur Style(long, silky..etc): Medium length, fluffy and silky fur
Body Style(slim, sturdy..etc): Lean and muscled
Personality: ShadowWhisper  is a candid, intelligent, strong and brave she cat. She will tell anyone how she feels and her tongue is as sharp as her claws. She can easily find answers to problems and she is fearless. She is loyal and neat. She will make sure that her clan is safe and will risk her life for them. Cats will usually see ShadowWhisper clean because she cleans herself at least once a day and her cleaning may take hours.  
Likes: Good leaders, smart cats, reasonable cats, respectful and reasonable cats.
Dislikes: Idiots, disrespectful cats, arrogant cats
Fears: Losing her love ones, otherwise, Shadow is fearless.
Dreams: ShadowWhisper dreams to make a good name for herself.
Talents: Hunting, fighting, being a leader
History:
Shadow was born in the forest with her sister, Snow. Her mother, Olive had left her kits with their father, Thrushfur. Their mother had feared dealing with the clans because she mated with a warrior from a clan when their father had a mate already. Thrushfur took the two kits in and asked a queen to take care of them. When Shadow and Snow were old enough to become apprentices, their name changed to Shadowpaw and Snowpaw. They had trained with their mentor until they became warriors. Their names changed to Snowfur and ShadowWhisper. Moons ago, ShadowWhisper had trained her first apprentice until it died when it became a warrior. Shadow was devasted to learn that Thrushfur had killed it because it threatened to tell every warrior in the clan that he mated with a loner. The clan leader had soon found out what happened to the apprentice and banished Thrushfur. And for moons ShadowWhisper and Snowfur still don't know who there real parents are.  
Clan: MoonClan
Wanted Rank: Deputy
Friends: Not yet
Family: Thrushfur (Father- Unknown), Olive (Mother-Unknown), Snowfur (Sister-alive)
Hobbies: Huntings, training apprentices, helping others
Mate: Nope
Crush: Nope
Mental Issues?:  Nope...
Best Tactic(hunting, herbs..etc): Fighting
Speciality (best at spying, healing, guarding, taking prey down..etc): Running with the shadows, sneaking, using brain, taking prey and cats down.
Theme Song: 1000 years-- Christina Perri
Other: Uh, nope