Picture(s):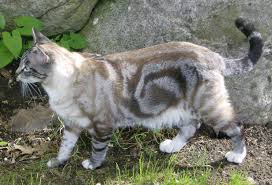 Age: 7 moons
Gender:  Female
Fur color: grey and white with brownish swirls.
Markings: brown swirls
Eye Color: Blue
Fur Style: Maple has medium to short fur length. Her fur is smooth and soft.
Body Style: Maple is skinny and small.
Personality: Maple is a quiet cat that prefers to be alone. She is sweet if you get to know her and are nice; but sticks up for herself and others. She is usually a calm cat, but sometimes gets scared in situations. 
Likes: Trees, she can climb well.
Dislikes: Badgers, sometimes she freezes when she sees one.
Fears: Badgers
Dreams: She wants to be a good hunter when she fully grows up. She also wants a mate and kits when she grows up.
Talents: She is very good at climbing, and is very fast.
History:  
Maple great up with her mother and father. She was born inside a rotting tree, and her family moved a lot. One day a clan found them and took them in. The clan was horrible to her parents and her, they thought they were too weak. One day her and her parents snuck away and traveled to a different place. Her parents got attacked by badgers, and she hid up in the tree. Her mother and father got killed by the badger, and she wandered for a while. 
Clan: None yet
Wanted Rank: When in a clan apprentice.
Friends: None yet
Family: Her mother, Daisy(dead), and her father, Crow (dead).
Hobbies: She likes climbing and running.
Mate: None yet.
Crush: None yet.
Mental Issues?: Sane
Best Tactic: Hunting
Speciality: She is very fast and has a great sense of smell.
Theme song: Might find one later.
Other: None